Fine Japy Frères Ormolu and Sèvres Porcelain Clock

~ French - Circa 1870 ~

~~ Excellent condition, fully overhauled ~~

A fine ormolu (gilded bronze Dore) clock mounted with exquisite Sèvres style porcelain with Rose Pompadour pink ground. The panel below the dial is very finely painted and shows a young couple, he serenades her in a tranquil country scene. The dial, urn and lower panel are beautiful painted with song birds and flowers.
£3950 English Pounds Sterling

Shipping within UK £25

Shipping to USA / Europe £115 by air fully insured

World wide shipping - £165 by air fully insured

stock code:

RSC3434
Bronze work is crisp and well finished. The gilding is in lovely original condition with a beautiful colour, carefully matted and polished. The clock is complete with its original gesso base. Please note that this type of clock doesn't have a front or rear bezel.
The French movement is of high quality and is by the legendary maker Japy Frères of Beaucourt. It is in excellent clean and running condition having been fully overhauled by our clockmaker. Pendulum is original. It runs for 8 days and strikes the hours and halves on a bell. Click the video below to hear the bell and watch the clock running.
Condition of the case is excellent, the original gilding is beautifully clean and bright with just some wear to a some high spots where the clock has been handled. The porcelain is also in excellent condition, some of the tiny applied 'jewels' are missing and there is some wear to the over glaze gilt decoration. The base is in good condition, the fabric has been replaced at sometime and there are a couple of knocks to the gesso.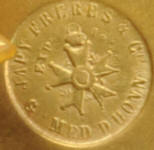 Japy Freres clockmaker's mark on the movement backplate

Complete with original pendulum, bell and a suitable key. Full setting up instructions supplied if required.
| | | |
| --- | --- | --- |
| Dimensions of clock: | inches | Height 16 3/4", Width 10 3/4", Depth 5 3/4" |
| (overall including base) | centimetres | Height 42.5 cm, Width 27 cm, Depth 15 cm |
About us - All of our clocks are original antiques, we source most of our clocks in France, Belgium, the Netherlands and the UK. We prefer to buy our clocks in original 'dirty' condition. We then clean the cases using a technique we have developed over many years. We employ two qualified clockmakers who overhaul the movements. Movements are thoroughly tested until we are satisfied that they will run trouble free.
Click the movie player below to see the this actual clock run -
(large file, may take a moment to start).