Rare Eugéne Farcot Maiden On A Swing Boudoir Clock

~ French - Circa 1870 ~

~~ Excellent condition, fully overhauled ~~

A super, rare original antique French clock featuring a maiden swinging back and forth as the pendulum. This is the Farcot version, the best one, patented by Farcot in 1862. It uses a double escapement with a half moon pallet to achieve the front to back motion for the cherub. The front plate of the movement is skeletonised and is visible through the centre of the dial.
£1695 English Pounds Sterling

Shipping within UK £25

Shipping to USA / Europe £75 by air fully insured

World wide shipping - £95 by air fully insured

stock code:

RSC2860
The case is beautifully simple and chic, made of the semi-translucent rock alabaster. The original maiden pendulum is gilt metal. This is a delightful clock to watch, please see the video below. The dial is enamel on copper in the form of a ring around the centre which is open to allow the skeletonised movement to be seen. Please note, this type of clock does not have a glazed bezel or a rear door.
The French movement is by Farcot and is of lovely quality. We have fully overhauled it and tested it to ensure proper running. It runs for 7 days on one wind. Please note that these are novelty clocks and therefore don't keep exceptionally good time. Click the video clip below to watch the clock running!
Condition of the case is very good, alabaster is a delicate material and there are one or two marks, discolouration and nibbles to the edges, particularly to the top, and a chip to one back foot. The dial is also in excellent condition, just some faint marks. The metal work including the cherub is in good clean and bright condition, with some minor wear to the cherub. This is a rare and delightful clock to add to your collection.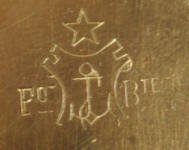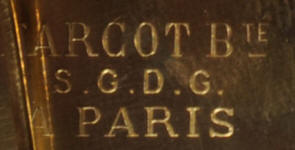 Eugéne Farcot clockmakers mark on the movement backplate

Complete with maiden pendulum and a suitable key. Full setting up instructions supplied if required.
| | | |
| --- | --- | --- |
| Dimensions of clock: | inches | Height 9 1/4", Width 7 1/2", Depth 3 1/2" |
| | centimetres | Height 23.5 cm, Width 19 cm, Depth 8.5 cm |
About us - All of our clocks are original antiques, we source most of our clocks in France, Belgium, the Netherlands and the UK. We prefer to buy our clocks in original 'dirty' condition. We then clean the cases using a technique we have developed over many years. We employ two qualified clockmakers who overhaul the movements. Movements are thoroughly tested until we are satisfied that they will run trouble free.
Click the movie player below to see the this actual clock run -
(large file, may take a moment to start).