Louis Japy Antique French Gilt Bronze Rococo Clock

~ French - Circa 1880 ~

~~ Excellent condition, fully overhauled ~~

A large and stunning original antique French clock by Louis Japy and retailed by Maison Henri Riondet of Paris. Boldly modelled waisted balloon shaped case, lavished with fine, asymmetric, scrolls and acanthus. To the top, a Rococo flourish.
£1895 English Pounds Sterling

Shipping within UK £25

Shipping to USA / Europe £75 by air fully insured

World wide shipping - £95 by air fully insured

stock code:

RSC3172
The dial is porcelain enamel on copper with separate minute ring, original finely fretted Rococo hands and convex glass. Unusually it is fully signed for Henri Riondet.
The French movement is of high quality and is by Louis Japy. It is in excellent clean and running condition having been fully overhauled by our clockmaker. Pendulum is original. It runs for 8 days and strikes the hours and halves on a bell. Click the video clip below to hear the bell and watch the clock running!
According to an advertisement in the 1896 issue of Didot-Bottin (directory and almanac for commerce, industry, judicial and civil services) the Maison H. Riondet, Comptoir General, a retailer, was one of 'the most well-stocked shops for everything from: jewellery, bronze art objects, timepieces & furniture, precious stones, marble sculptures, silverware, ceiling lights & white metal, chandeliers, cutlery, lamps & diamond-facetted fireplaces, travel clocks, "fine-stone" pearls.' It boasted 'factory prices' and 'retail stores in Paris with no other branches, representatives, or offices in any other city, French or foreign.' Maison H. Riondet was located at 9, boulevard Poissonnière and 45, rue du Sentier in Paris. The 1911 Annuaire de la Curiosité et des Beaux-Arts, a directory of curiosities and fine art, shows that the retailer was a member of the bronze manufacturing trade union.
Intersecting the grand Parisian boulevards, the Comptoir Général was located on the royal route, which under the Second Empire already connected the Madeleine to the Gymnase Theatre. The retailer figured among the great Parisian stores of the late nineteenth-century, providing "free entry" to customers. Strolling from the Place de la Madeleine to the Café des Variétés on Boulevard Montmartre, elegant crowds stopped to admire the store's display windows, stocked in an abundant and spectacular manner.
The Comptoir Général was contemporary with other great department stores of the period, like the Grands Magasins du Louvre, Bon Marché, and La Samaritaine, and attested to the new forms of commerce developing during the second half of the nineteenth century. These stores became showcases; advertising in newspapers, they offered the consumer a diverse and varied product, displayed in a way that was elaborate and luxurious.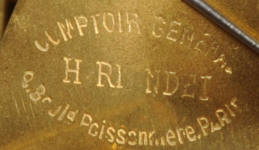 Louis Japy clockmaker's mark on the movement backplate along with the mark of retailer Maison Henri Riondet. The dial unusually fully signed for Henri Riondet
Condition of the case is excellent, the original gilding is beautifully clean and bright with hardly any wear or discolouration and there are no losses. The dial is also in excellent condition just some tiny nibbles next to the winding hole and some grazing / hairlining. There is small chip to the edge of the original glass.

Complete with original pendulum, bell and a suitable key. Full setting up instructions supplied if required.
| | | |
| --- | --- | --- |
| Dimensions of clock: | inches | Height 17 3/4", Width 10 1/4", Depth 6" |
| | centimetres | Height 45 cm, Width 26.5 cm, Depth 15 cm |
About us - All of our clocks are original antiques, we source most of our clocks in France, Belgium, the Netherlands and the UK. We prefer to buy our clocks in original 'dirty' condition. We then clean the cases using a technique we have developed over many years. We employ two qualified clockmakers who overhaul the movements. Movements are thoroughly tested until we are satisfied that they will run trouble free.
Click the movie player below to see the this actual clock run -
(large file, may take a moment to start).