Magnificent Antique French Rococo Clock Set ~ After Meissonnier

~ French - Circa 1880 ~

~~ Excellent condition, fully overhauled ~~

A very large and fine antique French clock set. It is of Rococo design in the manner of Juste Aurele Meissonier and boldly modelled in gilt bronze. Waisted keyhole shape with acanthus leaf shoulders, 'C' scroll feet standing on its original integral serpentine base. To the top is a putti and to the front is a motif of flaming torch and quiver of arrows, symbolic of cupid. To the sides, are cloth backed sound frets. Candelabra are beautifully formed as acanthus wrapped stems, with swirling acanthus arms and fluted tulip-form nozzles. The design is beautifully bold, well chased and finished. It is modelled in the round and so would display very well on a table.
£4950 English Pounds Sterling

Shipping within UK £35

Shipping to USA / Europe £150 by air fully insured

World wide shipping - £195 by air fully insured

stock code:

RSC3102
The large dial is also gilt bronze with 12 individual enamel cartouches and original finely fretted blued steel hands. The Rococo bezel is fitted with convex glass. A reflection of the pendulum swinging can be seen in the polished base.
Juste-Aurèle Meissonnier
The form of these candelabra is based on designs by the highly inventive and influential rococo goldsmith and architect Juste-Aurèle Meissonnier (1695-1750).  Born in Turin, Meissonnier emigrated to France to work in the royal Gobelins factory in 1724 and in 1726 succeeded Jean II Bérain as architect and draughtsman to the Chambre et Cabinet du Roi.  His designs for candelabra and other objects appear in the Dousieme livre des Oeuvres de J. A. Messonnier, Livre de Chandeliers de Sculpture en Argent published by Gabriel Huquier in the 1740s. A similar candelabrum in the Munich Residenz is illustrated in Ottomeyer and Pröschel, Vergoldete Bronzen (Munich 1986), Vol. I, p.105 fig.2.I.9.
The French movement is of high quality and is by Samuel Marti. It is in excellent clean and running condition having been fully overhauled by our clockmaker. Pendulum is a replacement. It runs for 8 days and strikes the hours and halves on a bell. Click the video clip below to hear the bell and watch the clock running!
Condition of the case is excellent, beautifully clean and bright with hardly any wear or discolouration and there are no losses. The dial is also in excellent condition; just some cracking to the number eleven cartouche. We have refreshed the red cloth of the sound frets.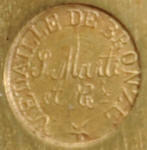 Samuel Marti clockmaker's mark on the movement back plate along with the retailers mark

Complete with pendulum, bell and a suitable key. Full setting up instructions supplied if required.
| | | |
| --- | --- | --- |
| Dimensions of clock: | inches | Height 16 1/2", Width 11 3/4", Depth 6 3/4" |
| | centimetres | Height 42 cm, Width 30 cm, Depth 17 cm |
| Dimensions of candelabra: | inches | Height 19", Width 10 1/2", Depth 10 1/2" |
| | centimetres | Height 48 cm, Width 27 cm, Depth 27 cm |
About us - All of our clocks are original antiques, we source most of our clocks in France, Belgium, the Netherlands and the UK. We prefer to buy our clocks in original 'dirty' condition. We then clean the cases using a technique we have developed over many years. We employ two qualified clockmakers who overhaul the movements. Movements are thoroughly tested until we are satisfied that they will run trouble free.
Click the movie player below to see the this actual clock run -
(large file, may take a moment to start).