Antique French Louis XVI Marble and Ormolu Portico Clock Set

~ French - Circa 1900 ~

~~ Excellent condition, fully overhauled ~~

A beautiful antique French portico clock set. It is of Louis XVI style and made of a stunning variegated specimen marble, mounted with ormolu (finely gilded bronze). The marble is veined with oranges, pinks, violets and blues. The movement is held aloft on four marble pillars with the ormolu pendulum swinging gently below.
£1995 English Pounds Sterling

Shipping within UK £30

Shipping to USA / Europe £95 by air fully insured

World wide shipping - £125 by air fully insured

stock code:

RSC2905
The dial is prettily painted with floral swags between the numbers on porcelain enamel. It is complete with it's original finely fretted gilt brass hands and convex glass. The rear door is also glazed to allow the movement to be seen.
The French movement is of high quality and is in excellent clean and running condition having been fully overhauled by our clockmaker. Ormolu sunburst pendulum is original. It runs for 8 days and strikes the hours and halves on a bell. Click the video clip below to hear the bell and watch the clock running!
Condition of the ormolu is excellent, beautifully clean and bright some discolouration and wear. The dial is also in excellent condition with no damaged. Marble has some and nibbles to the edges and the rear right hand column has an old repair.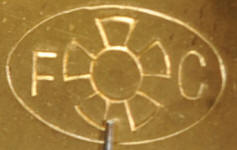 The movement backplate is marked for the maker Ferdinand Verger (1851-1928) was the founder of the firm and a master watchmaker and jeweller. He apprenticed at the age of 11, worked in London for a time, and then moved to Paris where he became the French agent for Vacheron and Constantin in 1879. In 1911 Ferdinand moved the firm to 51 rue Sainte Anne under the name of Verger Frères, as he trained his sons, Henri and Georges, to join the firm. In 1920 Ferdinand left the company to his sons. It was during the time that Henri and Georges ran Verger Freres that it reached its peak. The firm became one of the most famous clock designers of the 1920s. They were particularly known for their innovative use of precious materials in clocks, stands, frames and watches, employing only in-house lapidaries and stone-setters. The business between Verger Freres and Vacheron and Constantin developed into a partnership, while they also produced for all of the great jewellers of the day: Boucheron, Cartier, Chaumet, Janesich, Lacloche, Tiffany, Van Cleef & Arpels, and many more.

Complete with pendulum, bell and a suitable key. Full setting up instructions supplied if required.
| | | |
| --- | --- | --- |
| Dimensions of clock: | inches | Height 15 1/2", Width 8 1/2", Depth 5" |
| | centimetres | Height 39 cm, Width 21.5 cm, Depth 12.5 cm |
| Dimensions of vases: | inches | Height 10", Width 4", Depth 3 1/2" |
| | centimetres | Height 25.5 cm, Width 10 cm, Depth 9 cm |
About us - All of our clocks are original antiques, we source most of our clocks in France, Belgium, the Netherlands and the UK. We prefer to buy our clocks in original 'dirty' condition. We then clean the cases using a technique we have developed over many years. We employ two qualified clockmakers who overhaul the movements. Movements are thoroughly tested until we are satisfied that they will run trouble free.
Click the movie player below to see the this actual clock run -
(large file, may take a moment to start).